"I was conscious and in total agony", Frederik, 22 years old from Dodoma, Tanzania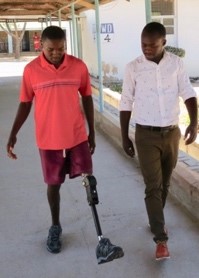 Frederik has been amputated Above the knee just last year. The photo shows her first steps with a prosthesis.

Frederik is 22 years old and lives at home with his parents and his 7 other siblings.

"We were travelling to the family farm on a tractor when I fell off. My leg was trapped between the huge tire and solid fender of the vehicle. I was conscious and in total agony for all the time it took my family to untangle my leg from the tractor and transport me to the nearest hospital. I was in despair for 3 weeks as the doctors tried to save my leg, I really did not want to loose it. In the end they assured me that amputation followed by the fitting of a prosthetic was the best option for me to regain my lost mobility, so I consented. Although my wound healed well, my family could not afford the TZS 5 million (almost Euro 2000.00) to purchase me a prosthesis.

When my accident happened, I was in in Form 4, the last year of state sponsored education in Tanzania. To complete the final 2 years of high school and study at a university, my parents would need to pay my tuition fees. I would like to be a businessman one day and open my own shop."

As a first-time user of an above knee prosthetic, Frederik would normally have required at least one week of training before being able to walk without the aid of crutches. Encouraged by the chance he thought he had lost forever of being able independently mobile again, he walked unaided and confidently out of the workshop two days after his fitting.

On 21st September 2018 Frederick was put back on its feet by SwissLimbs with a new leg and a high preforming All-Terrain knee which is especially designed for active people who need to be mobile in rough terrains.